---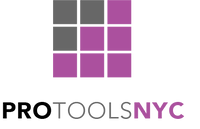 Pro Tools NYC Private Training Class Sessions
4 Sessions, 1 Hour Each with Certified Instructor In Studio or Online
LENGTH
Suggested length: 4 Training Session Hours with Certified Instructor
OVERVIEW
Course Details:

Private and/or small group Training Course Session Classes.
Online via Zoom, Screen Share, Remote Computer and Studio Control.  
And/or In Studio, Comprehensive, Hands On. 

The course is offered in Sections. Each Section is 4 sessions. Each session is One Hour.  You go at your own speed. We recommend 1 session a week, Online. 
Learn all the fundamentals of Pro Tools and Audio Production no matter where you are in the world.
Including: sound recording, sound editing, mixing, mastering, music production, and so much more while learning how to operate Pro Tools software.

Learn and understand all aspect of Pro Tools.
AUDIENCE
All Levels, Fundamentals To Expert 
This course is designed for everyone interested in audio and music production  
 PREREQUISITES
LEARNING OBJECTIVES
Gain in depth comprehension of:

hardware and software
interfaces
recording gear
pro recording techniques
post production techniques
sound FX's
sound manipulation
vocal production
pitch correction
editing
compression
equalizers
microphones
preamps
proper tracking technique
And much more...